NSFW Comments: Time and Place
by Mariah
•
published on Sep 21, 2021
•
6 min read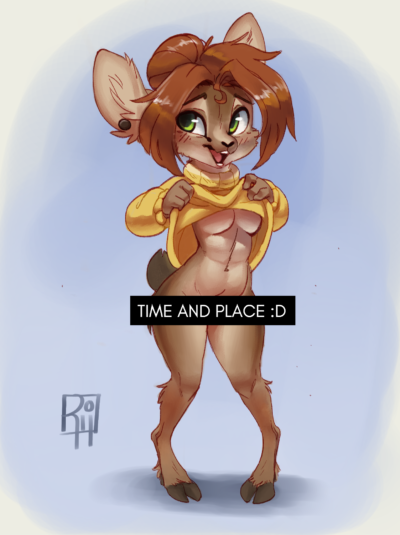 Lemme just put this out there real quick:
We're all animals, especially in the Anthro community. Silly, horny, social animals who thrive on interaction. I know this is a blanket statement, but when you look at how our community is basically constructed around a Not-Safe-for-Work (NSFW) craft, you can begin to see what I'm getting at. Lately, I've been seeing an increase in tweets that go something like this:
"Please don't post sexual comments on my artwork, it really makes me uncomfortable."
Or
"Don't post what you would to do to my character. It's just creepy and gross."
I'm sure you have all seen at least one creator asking their audience to refrain from being overly sexual in the comments on their work, which they have every right to do. But, on the other hand, I am also seeing a curious string of logic that goes like this: "Why do you even draw sexual art if you aren't looking for a sexual response? Isn't that the whole point?"
TLDR if you don't wanna read the rest of the article: No.
Still with me? Awesome! I don't think this article is going to be a super long one, but it's definitely something I want to cover. Keep in mind that this doesn't apply to every creator out there! I know a few creators who will often post the "Which picture of mine have you fapped to?" meme, and there isn't anything wrong with that. But when it comes to our creators who put NSFW art out there on the regular, we all need to pause for a bit and understand that there is a fundamental separation between the art you see, and the person who created it.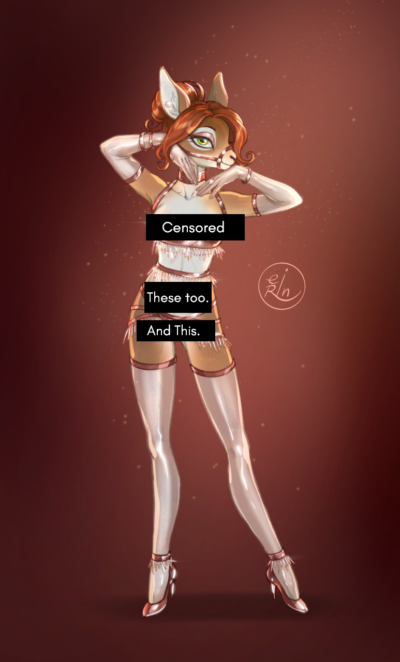 Now, I don't want to start any kind of "Art Vs. Artist" argument because I see a ton of those going around already when it comes to questionable content. What I want to focus on with this article is strictly the concept of "Time and Place", and what I mean by that phrase.
Let's say you see a very sexually charged image of one of your favorite characters on twitter. It's so attractive that you struggle to look away as your mind is flooded with erotic fantasies. Do you think it's appropriate to share those fantasies in the comments for all the world, and the creator, to see? This, right here, is where Time and Place comes into play. Let me walk you through a quick checklist to see if you should post your fantasy comment. Just ask yourself these questions, and you'll find your own answer.
1. Do you know this creator personally? As in, have you interacted with them in a one-on-one chat, on more than one occasion?
2. Has this creator openly posted that they are okay with NSFW comments?
3. Do you really want everyone to see what you're about to say? Because we both know it's going to be cringe and could possibly get you blocked. Is it really worth it?
If you answered YES to all three questions, then go for it! If you answered NO to any of the above questions, then you should really keep it to yourself. Simple as that!
No matter what the context of the NSFW art is, there will always be a proper time and place for you to share your thoughts. Perhaps with your discord chat that's already full of horny animals? Or possibly your telegram group that's saturated with similar content? Either way, you've got options, and both of these come with a much lower chance of being called a creep or being blocked by one of your favorite creators.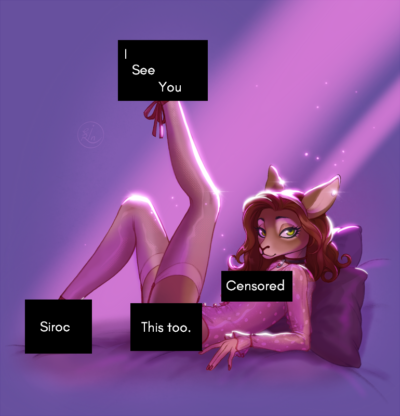 I hope the message in this article was helpful. There really is a time and place for every kind of interaction, but public spaces usually aren't the best choice when it comes to NSFW content. It's also possible to let the creators know that you really enjoy their work, without being NSFW yourself. Toss them a like, or even a retweet, and then just let them know how much you like the picture in polite terms. They really don't know how hard you get off to it, that's the cringe TMI part; unless the creator literally asks.
Letting our creators know what we like about their art is definitely something that keeps them going. That's the social part of our community and it truly helps to build confidence and add a little more fuel to their creative fire.
Just keep in mind that there is good, and bad, way to go about it, and you'll do just fine!
Thanks for reading!