Life's Challenges
by Mariah
•
published on Jan 15, 2021
•
12 min read
As I'm sure many of you know, my grandfather recently ruined the engine in our little SUV. He hit something in the road, let all of the coolant leak out, and continued to drive it until it couldn't be driven any more. He wasn't injured or anything like that, but the car was DOA by the time he got back home with it. Needless to say, this has had a pretty large impact on our lives! Happily though, I'm not too upset about it. And here's why:
I know I've never really done a formal introduction, but this is my partner, Shilo. She actually stood the most to lose from the death of our SUV, because it was actually her daily commuter car. We have had that car for the last four years, put nearly 100,000 miles on it, and it never once let us down. It was all-wheel-drive and it got us through the harshest of rains and deepest of snows. As a matter of fact, the last thing we did in that car was go out together to take pictures of the blizzard that had come through the night before.
To be completely honest, I don't know where I would be without her in my life. She is the little cynic that keeps me grounded, but at the same time she is the most wonderful person who knows exactly what meme it will take to cheer me up during these hard times. I'm fortunate to have her with me and thankful for everything she has done to keep me sane while dealing with life's challenges.
This is Fox, aka PointedFox, and I can't even begin to explain all of the help he has given me over the last couple of months. I work for him as both his Manager and Assistant, coordinating his schedule, managing his calendar, handling his Patreon posts, just about everything. Having this much purpose while dealing with losing my job has given me so much drive. I've been out of work since April of last year, and this is the first time in my life that I have had to deal with such a terrible economic downturn.
Fox has shown me that no matter what happens, you can still find joy in life. He works hard every single day for a major studio, but then still finds time to interact with a wonderful community that he has build on Discord. He gives people free art as his warmups, and is constantly giving back to his biggest fans. I am really lucky to share in all of the things he does and be able to see his passion for creating. Not to mention, Fox was my very first patron when I decided to put myself out there to see if anyone would be interested in supporting me. To this day he remains the only member of the AnthroBrand board and he helps me with art and site management decisions almost daily. Our partnership is a truly wonderful thing.
And then there is this loveable dork, the aptly named Siroc, a.k.a. King of Cringe Memes. He has supported me in everything I try to do from the very beginning. Even during the earliest days of AnthroBrand when I only had two or three articles to show what I was trying to do, Siroc was there RT'ing my stuff. Even now he will poke his head around the corner and see how I am doing. He has been such a wonderful help when it comes to keeping my chin up.
The best part about Siroc though, is the inspiration that I draw from him. He is teaching himself how to sail, as in sail boat, and wants to move off land to live on the water. I love seeing his progress and it continually inspires me to do more. He is one of those "you can do anything you put your mind to" kind of people. And I think he is incredible for putting his mind into something so challenging. To be able to share in someone's passion and see them succeed is the best feeling in the world.
This is Reign; and I don't even know where to start. Like, when I think of this silly fennec all I can really grasp is just how much we have been through together in the short time that we have really known each other. When it comes to ups and downs, we share everything with each other and have, for some reason, decided to stick together and ride shotgun on each other's roller coaster of a life.
What makes him wonderful though, is his passion for people. I have never seen someone with such a well-hidden, but kind heart. I know he can be reclusive at times but we all cope with life in our own special way. Recently, he has decided to open his own Discord community and I'm happy to say that it's truly thriving. It's wonderful to see Reign out and about again, especially after everything he has been through in recent times. He is as strong as he is blue.
Hilariously, two of the most supportive people I know actually had a picture done together, and I think it's adorable, so I am gonna use it. This is Tanuki and Styopa, two of the most dependable people I have met since launching AnthroBrand. Tanuki helps me moderate the AB server every single day, and Styopa is always lurking around and ready to help at a moment's notice.
I think it's fitting that these two are in a picture together because they represent two of the most genuine people I know. Tanuki always has something to contribute, even going so far as to become a contributing writer here on the site. And Styopa has given me more of his time and care in the shorts months since we met than I could repay in a lifetime. Both of these fluffy boys are smart, capable, and always ready to lend a hand when times get tough.
What can even be said about this big, goofy, lovable bird. Skully was one of my first, full time clients of AnthroBrand. I helped him get his schedule sorted and from that point on we were pretty much best friends. He is as kind as he is tall, 7' on average, and no matter what I'm dealing with he always seems to know exactly what to say.
I consider myself fortunate to have him as a friend because he lets me write creatively within his universe fantasy universe of gryphons and magic. He allows me to keep my writing edge by constantly bouncing things off of him and critiquing my ideas; and I'm really happy that we share a lot of the same passions for just putting pen to paper and seeing where it leads. He is also a huge DnD nerd and it makes me laugh when he gets excited about his games. But hey! Everyone has those little things that make them smile and I'm just happy to share in something that I know absolutely nothing about.
I know all of you will recognize Merlin. Since the very beginning she has basically been the "official artist of AnthroBrand." If you see a picture of me in these articles, it was most likely done by this wonderful feline.
I'm incredibly thankful that our paths crossed on FA one day. I don't even remember how it happened, but I do remember how nice Merlin was when I sent her a random message about getting a commission on Discord. Not only did she respond right away, but she took my commission of 6 ASL expressions and finished them in like two days. So rarely do you meet a total stranger who is so kind and forthcoming. Merlin has been nothing but honest, helpful, and sweet ever since the day we met and I'm happy to call her my friend.
The best part about all of this is the fact that these are the people I readily had art for and my support network is so much more vast. This isn't a complete list, just those who I had art for at the ready and who have made the largest impacts on my life in recent times. I wanna thank all of my patrons who have chosen to support me and the site with their hard-earned resources. I know money doesn't come easy during these times, but these people have chosen to share theirs with me so I can keep this site going:
PointedFox
Trev
Tanuki
Keero
Sazemek
Mira
Tonakuma
Jonas
Hazencruz
Thank you all for your continued support. Every little bit helps and you are all helping me save the monthly fees that it costs to keep the site up and running. Your kindness has not gone unnoticed and I appreciate each and every one of you.
---
So, there we have it. Just a few reasons why I'm not upset about the whole car thing. Yes, it was a great little SUV that took us everywhere and this is going to be a massive financial setback for us. But, we will make it thanks to people just like you. Money is just another object that we have to deal with. While I agree that it can't buy happiness, it has to be said that it can buy transportation.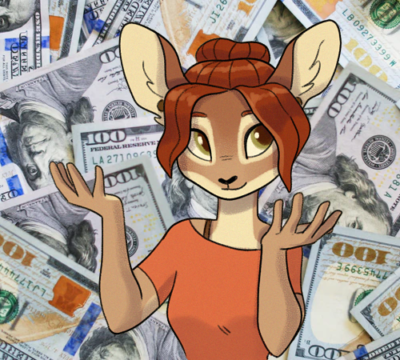 I hope you are all doing okay despite the rocky start to 2021. I know it's not what any of us wanted to see, but here we are and we are gonna make it. When you start to feel a little down or life throws a curveball your way, please don't hesitate to reach out to the people you know. Sharing knowledge and wisdom is one of the most precious things that keeps all of us in the Anthro community together. It's not just the art, but the people. That's what makes our community less of a town center and more of a home. It's cozy here and I wouldn't want to be anywhere else.